Google Analytics Tip – Visualise Your Data
We use Google Analytics to tell us where visitors go on the websites we build.
Here is the In Page Analytics Report for zen10 for the last 30 days. The percentages overlay show where visitors clicked when they came to the home page (click image to enlarge)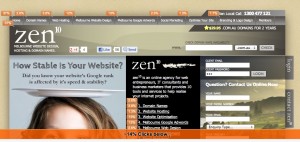 I can see that 13% of all traffic clicked the link to our Google Adwords Product page.  Hopefully they signed up for one of our packages.
You can use the same  report on your website.  Contact us if your want Google Analytics set up or have any questions in using this amazing free tool.