How & Why To Blog For Your Business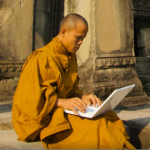 Your Company blog should be the source of all your best content, its a central place where all your best ideas are stored and indexed for Google.
If you are actively writing articles i.e.blogging, you are attracting new and return visitors and driving you visibility on Google.
Blog to attract traffic from long tail searches as well as assisting ranking for your halo keyword.  Use Googles auto suggest feature and the keyword tool to find long tail blog titles.  Target your reader.
Blog to engage customers and generate leads. Blog to remind customers why they choose you in the first place and give then the latest information they need to be successful.
Once you have written that compelling article you can then share on your favourite social networks.
Give your website the love first and you will see an  increase in new visitors, time on site, pages visited, lowered bounce rate, which can all help conversions of visitors, to enquiries , to customers. Make sure you set up goals in Google Analytics to track your success.
Having the right tools at hand makes the proces easy. For most of our clients we recommend designing and developing a customised WordPress website for ease of use, design and functional flexibility.  The zen10 website is built this way.
We have set ourselves a goal of 60 blogs in 60 days and are at 25 day mark. Since migrating to our WordPress website and blogging we have seen our sites Google visibility increase dramatically.
Now it's over to you, give us a call if you need any help on content strategy or setting up a website to make blogging easy.