If You Knew The Economy Was About To Collapse – What Would You Do Differently Today?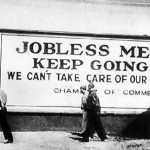 Here's a thought experiment for you.
If you had a time machine, and the Doc showed you a future where the global economy collapsed in 2-3 years, what would you do differently today?
Would you liquidate your assets and reinvest your money into Gold, like many investors seem to be doing now?
Would you put your money into stable cash-holding accounts? In the great depression queues of people lined up at banks to withdraw their money. Eventually the bank vaults were empty and those people still in line were turned away with nothing.
Would you sell your house? Would you put any money under the mattress?
Would you build a nuclear bunker under the house and start stockpiling guns, ammunition and non-preishable food?
Or.. would you keep doing what you are doing now? Showing up to work. Checking your emails and doing your job, waiting for the inevitable?
It's an interesting question. If interest rates skyrocketed tomorrow and house values dropped, if you lost your job, if money inflated to worthless levels, would your life's structure insulate you from ruin? Or is there an opportunity for growth in an economic downturn that can be seized with forethought? Leave your answers in the comments below, we'd love to hear your ideas.