Mechanic Website Design – Simmons Byron Bay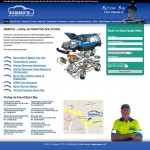 W.E. Simmons is a family owned and operated automotive service in Byron Bay that has flourished over the years into a multi-workshop business that services the region. If you've ever broken down in Byron Bay, rented a car or Wicked Camper Van, or even had to get a eSafety check, chances are you've already used them. They also run the busy Caltex service station at the first roundabout into town.
The website they had beforehand (which we'd also designed years ago) was starting to date and didn't fully show the scope of their operation. We helped them design and deploy a new site with a CMS backend with a focus on lead generation and search engine optimisation for maximum visibility. Within an hour of the new site going live they were getting enquiries, and are still getting consistent quotes and booking requests.
If you need automative help in Byron Bay, you can go past the W.E. Simmons group. Check them out at http://www.simmonsbyronbay.com.au/