Melbourne Landing Page Design – My Commander Mobile Plans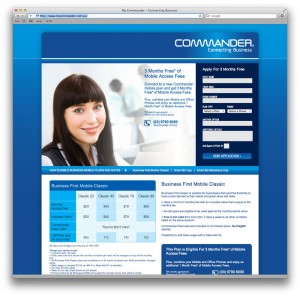 zen10 recently launched a new online marketing campaign for My Commander mobile phone plans. Using an effective landing page can double, triple or quadruple the number of enquiries you may receive from a normal page. It does this with focussed, service related information and no distracting navigation or asides. It has two simple ingredients – The information the customer wanted, and a clear path to the next step (application, contact, sale etc).
http://www.mycommander.com.au/
If you are after effective landing page design, contact zen10 Australia on 1300 798 901.