Melbourne Landing Page Design – Natural Sleep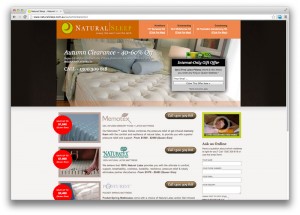 Natural Sleep sought the help of zen10 to develop a new landing page to coincide with Google Adwords sale campaigns.
The new landing page has kept the same style as the main page of the website but has been stripped of all links to the main website, thus enhancing lead generation.
The new landing page includes the standard online enquiry form (where most leads are created), lightbox effects for both Google Maps and video commercial, simple design and online exclusive gift offer.
When it comes to luxury bedding that wont cost the earth, Natural Sleep are your first choice! www.naturalsleep.com.au/autumnclearance
If you are after effective website design, contact zen10 Australia on 1300 798 901.