Melbourne Web Design – B & D Roofing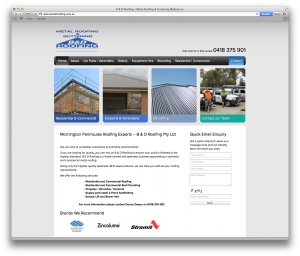 Trades websites require just enough information to allow the visitor to make a decision about reaching out for a quote. You want to get straight to the point about what you do, where you do it and give some sense of the scope of your operations.
Here is a recently soft-launched design for B&D Roofing that uses clean HTML and CSS, but also uses CSS3 transitions for smooth colour effects while rolling over the main feature menus. Often large visual menus like this are great for businesses with a few core services.