Melbourne Web Design – Utter Gutters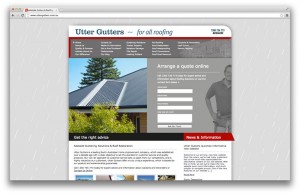 Established over a decade ago, Utter Gutters are a leading South Australian home improvement company.
We recently had the pleasure of working with Utter Gutters to develop a fresh new website that reflects all of their roofing services.
The new dynamic website was built using custom WordPress template development allowing the team at Utter Gutters to make updates to the website when needed.
The use of custom slideshows, galleries and custom fields allow Utter Gutters to fully showcase their roofing services.
If you are in South Australia and are in need of quality Roofing solutions, contact Utter Gutters today. www.uttergutters.com.au
If you are after effective website design, contact zen10 Australia on 1300 798 901.