Melbourne Website Design – ASV Partners Financial Services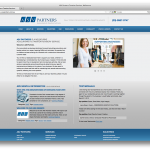 zen10 helped ASV Partners launch their new brand and website recently for financial services. It covers a number of financial services and includes a news feed the client can update themselves via WordPress CMS.
You may notice we roll out a lot of custom designed wordpress sites. This is because the development framework is simple enough for our clients to use and robust enough to deliver a solid, well optimised website online.
For Melbourne financial info visit http://www.asvpartners.com.au/