Melbourne Website Design – Boss Empire Group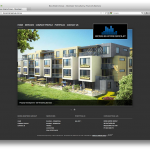 One of zen10's recently launched site designs is Boss Empire Group. This site was designed and built after close consultation with the client. It is a custom wordpress design which will allow them to showcase their massive portfolio of construction and development projects.
Boss Empire Group are more than just property developers. They advise and assist other property developers with a wide range of services including organising build crews, finance, and property sales & marketing.
If you are  looking to get into property development or are an existing property developer looking for assistance on an existing project, be sure to check out http://bossempiregroup.com.au/