Melbourne Website Design – Carpet Cleaning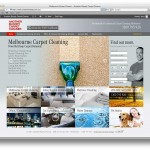 We recently redesigned and developed the website for "Another Bloody Carpet Cleaner", a Melbourne Carpet Cleaning service specialising in Carpets, Rugs, Furniture, Upholstery, Pet Stains and even Car Interiors and Water Damaged surfaces.
The aim for this site, as always, is to improve lead generation for the client. However we also wanted to ensure their brand was well presented for higher end, modern Melbourne homes. They have a cheeky, but effective brand that needed to be translated for a look of quality and professionalism that their last website didn't fully impart.
If you need Melbourne Carpet Cleaning, consider Another Bloody Carpet Cleaner!