Melbourne Website Design – Contact Usability
This is very important. It's doesn't matter if you have the best website in the world, if you don't have your phone number or contact information prominent and easy to access and use, your customers won't contact you.
Ensure your phone number is displayed prominently at the top of the page, within your main text, and at the bottom of the page.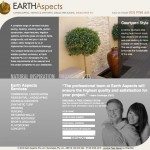 Put a contact form on the right hand side of the page that is short and inviting. Use an offer (eg Free Quotes, Internet Discounts) to invite contact.
Avoid publishing your email address, this will increase the spam you receive and you lose control of the quality of your enquiries, use a contact form which can also track enquiries.