Melbourne Website Development – LEDified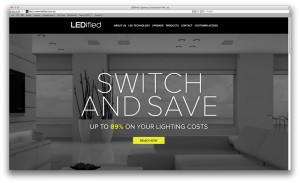 LEDified is Australia's largest full service LED lighting specialist servicing both commercial and residential customers.
The team here at zen10 were privileged to develop a brand new website for the Australian based company. Working with a fresh and modern design created externally, we turned this Photoshop file into a fully functioning website that showcases the products and services that LEDified have to offer their customers.
When given the design initially, it was clear the design would take some work to develop it into a flexible WordPress powered site. This is where we applied custom WordPress template development.
The site boasts a number of great features including manageable slideshows, online blog, customer access section, online enquiry form and subtle JQuery effects throughout.
If you are after LED Lighting specialists, Contact LEDified today www.ledified.com.au
If you are after effective website design, contact zen10 Australia on 1300 798 901.