Sydney Web Design – Platinum Corporate Cars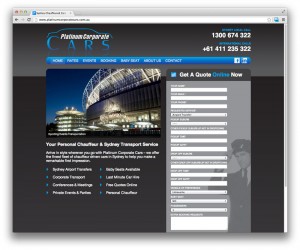 The team at zen10 have worked closely with Platinum Corporate Cars to successfully upgrade their website and bring it into today's web standards.
Keeping very similar functionality to the old website, the new website was built using custom WordPress template development.
The aim of the redesign was to increase online enquirires and showcase all of the services the team at Platinum Corporate Cars can provide you with.
The colour pallet of the website was chosen to reflect elegance and luxury as Platinum Corporate Cars do very much cater to that market.
The simple design makes navigation through the website a breeze and the in-depth enquiry form allows customers to request a quote for exactly what they want.
If you are in Sydney and are in need of a fantastic and quality transportation solution, contact Platinum Corporate Cars today.
 If you are after effective website design, contact zen10 Australia on 1300 798 901.