Victims of Crime Website Design Update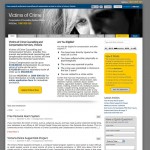 Did you know that if you've been affected personally by a crime against a person (eg assault, rape, domestic violence), even if you are only a relative of the victim, you may be eligible for compensation? The government provides funding of up to $100K for compensation and support. All you need to do is apply for it. Once of the organisations that helps with this process is "Victims of Crime" in Melbourne.
We recently gave their site a "fresh coat of paint". An existing wordpress site, we did a wordpress upgrade and renewed the template with stronger colours, a slightly wider page with, social network integration, strong omnipresent contact forms and call-to-action buttons, prominent phone numbers and more human graphics. This type of conversion rate optimisation design goes a long way to improving the performance of a website.