Web Design Melbourne – Utter Gutters Re-design
U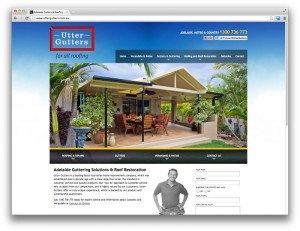 tter Gutters has recently approached zen10 with the request for a website re-design. Something fresh and different from their old website.
Working closely with Craig and the team at Utter Gutters, zen10 has taken into consideration the various ideas and developed a brand new design to welcome in 2013!
Built using custom WordPress template development, the new website features seamless integration with a Google Adwords campaign and allows Craig and the team at Utter Gutters to take full control of the site.
Featuring a new gallery management tool and custom slideshow feature, Utter Gutters can now showcase their vast range of products and services.
Whether it be roof restorations, carports, patios or guttering solutions, if you are located in Adelaide and are in need of some roofing help, contact Utter Gutters today! www.uttergutters.com.au
If you are after effective website design, contact zen10 Australia on 1300 798 901.