Another Melbourne Web Design – Qimota Training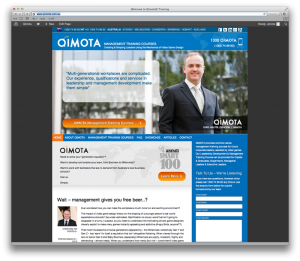 Here we created another bespoke web design for a Melbourne based training organisation – QIMOTA. Their strong branding and identity set the tone for the crisp, professional look of the website. We wanted to improve the engagement of the viewer with the slightly "intangible" service of training by using strong, personable photography.
An "intangible" product or service is one that is hard to show with pictures. Training, for example, is best visually summarised with action classroom shots of students etc, but unless composed properly still doesn't illustrate what the training is about. Instead we focussed on outcomes, with a strong slideshow of quotes + testimonials from industry partners and ex-students. This ensures the service is imparted to the viewer quickly and effectively.
If you need leadership or management training visit www.qimota.com.au or if you'd like help with your website design and marketing, contact zen10!