Business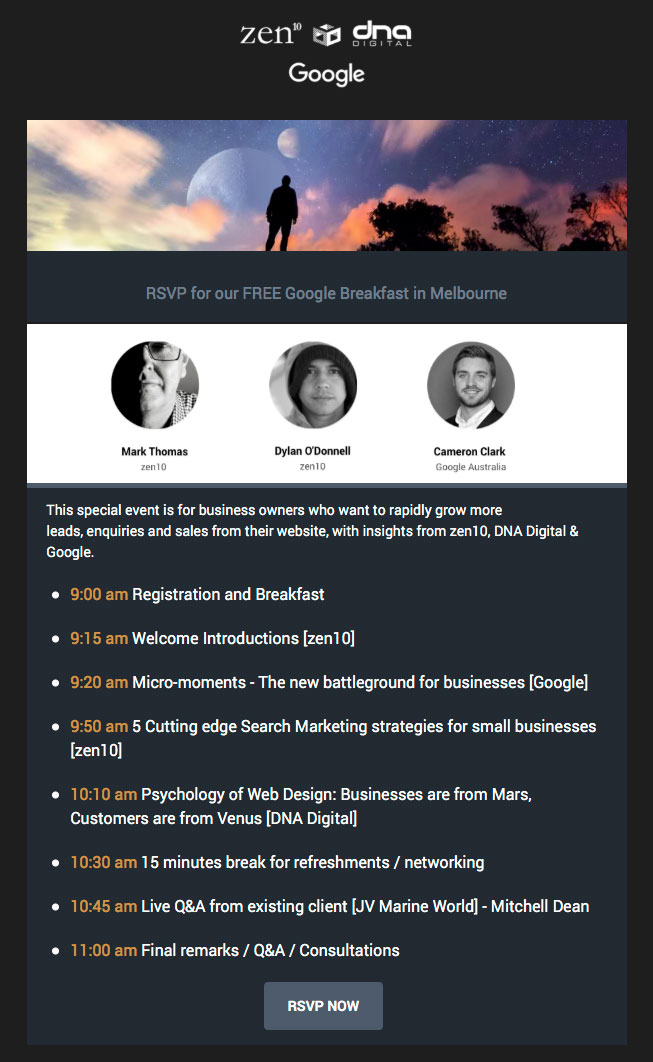 You are invited to a free breakfast with Google and zen10 on July 8th at the Cullen Hotel, Prahran
Speakers at this event are zen10 co-owners Dylan O'Donnell and Mark Thomas with Cameron Clark from Google Australia.
Learn how to find keywords and trends in your industry
What are the keywords your customers use when they want to buy for you
How to fInd the lastest keyword trends in your industry
When you should use AdWords and when you should just say no
Tools to improve your website performance
Learn why businesses are form Mars and customers are form Venus
What you should change on your website now to drive more sales
Get the latest from Google
Hear direct from Google the lastest data on what devices matter most in your customers journey to purchase
How to use mobile to win the battle of micro moments before a purchase
Special Offer
– Free, no obligation, one in one consultation with Google's specialists and expert Google partners
– Ask questions specific to your business
– Walk away with an online action plan for more leads, enquiries and sales
About the speakers
Mark brings with him 17 years experience in digital marketing, the last 8 years as a certified AdWords professional. Mark will share his secrets for crafting and managing high performance AdWords campaigns.
Dylan has a Masters of Information Technology and over 15 years experience in online networking, servers and web development (as well as being a world renowned space photographer in his spare time). Dylan will show you how to he designs websites that turn visitors into customers.
Cameron Clark for Google.
July 8th, The Cullen Hotel Prahran
Registration & breakfast 9.00 – 9.30
zen10 & Google presentations 9.30 – 11.00
One on one consultations 11.00 – 12.00
Booking is essential, space is limited. Register now
"I have worked with Mark and Dylan from zen10 for the past 5 years, they are my go to guys for Google" Glenn Gleeson Five Star Locksmiths
"zen10 are one of the few companies who synchronise online marketing with web development so they become greater than the sum of their parts" Lee Kenos Knightstone Partners
"What ever happens make sure my ads do not go offline" Mitchell Dean JV Marine
zen10 is a Google Partner Agency based in South Yarra.
Remember that scene in Terminator 2 when John Connor (Edward Furlong) connects his Atari Portfolio laptop to an ATM machine, punches a few keys and makes it rain benjamins? "Easy Money".
I could sit here and tell you that there is no such thing as "Easy Money" and you need to work hard and blah blah blah but let's be honest – some kid will be in the news tomorrow because he wrote a crappy game app with birds or cats and made your annual wage in a day. Or perhaps the story about the millionaire CEO who just paid themselves a sweet bonus while the share price dropped.
Yes, there's no replacement for hard work, and the kid-genius, millionaire CEO or ATM hacker all did their fair share too, but some people will get a windfall disproportionate to the effort they made. That's the "Easy Money".
So without further ado, join me as I channel Ebenezer Scrooge and share some tips for your business to grab the low hanging fruit in your business so you have more money for martinis, supermodels and private massages at the end of the week.
1. Your Business is Not a Charity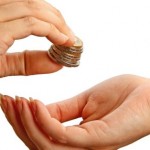 In Australia, the biggest pressure on business are the costs associated with employment. PAYG, Super, HR and generally high wages. Many businesses are unprofitable because they are chasing their tail every quarter or every month to pay these costs – but what is the point if the revenue is being eaten up this way? It's much too close to christmas to be advising you to let go of staff, but every staff member needs to be an asset not a liability.
Before you hire someone run the numbers – will that extra staff member produce more revenue for the business above their cost of employment? Review your processes and workflow and you will find that it's better to automate or change a process than to throw more human resources at it. Work smarter, not harder as they say. Often you have an emotional connection and loyalty with your staff – and that's a good thing. But remember that the exchange is time for money. They give you their time for your money. Nothing beyond that is owed in either direction, because your business is not a charity.
2. Trimming the Fat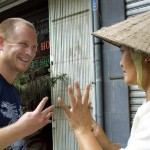 Here's a really easy thing you should do at least once or twice a year. Your accounting system (MYOB, XERO) has a P&L report that will break up all your expenses by category. Payroll, Office Costs, Vehicle Expenses etc etc. Look at every single category and ask yourself – How can I save money here? I guarantee you that you will find categories where cheaper suppliers can be found. In some cases it might be as simple as calling an existing supplier and asking for a better plan or rates. In others it will be rethinking the entire category. You will find real money stashed in these categories that will start to line your pockets as soon as you start trimming the fat.
3. Pay Yourself Last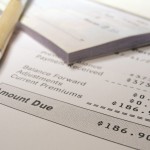 I don't know where this started but "Pay yourself first" is the most misused and abused idiom in the business / sales world. It's a trick phrase that sales people use to get you to pay them! Many business people have completely missed the point of this one and bled the company of money while chasing their tails to pay tax and bills past their due date. Unless you know you can increase that money before the bill is due – pay the bill first. Pay all your bills first, pay as frequently and early as possible. If you can, pay super and wages and taxes weekly. Once you start doing this you'll never find yourself locked in the cycle of trying to make money today to pay yesterdays bills – all the money left in the bank will be profit. You will have better control of your cashflow and your stress levels will decrease – because you don't owe anyone, anything when you pay yourself last.
4. The Customer Is Not Always Right (For You)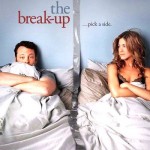 Many businesses get into the trap of saying yes to all jobs and sales that come their way. It makes sense in theory (who doesn't want more sales?) But not all customers are profitable, and if you can identify those customers and stop spending time and resources on keeping them happy your business will be instantly more profitable. It's ok (and legal) to refuse service if it is not profitable for you for any reason. You'll never make everyone happy so put your best efforts and work into those you know you can because the customer is not always right for you.
5.  Playing the Game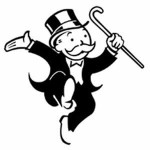 The other major pressure on Australian business is tax. It's important to remember that there is nothing illegal or unethical about trying to pay less tax. The less tax you pay simply means that money is left in the broader economy and not in the government purse. There are many ways to decrease your tax that are perfectly legal. Negative gearing, company structures and wage arrangements for example. Sit down with your accountant and explain your entire situation – your family, your personal income, your assets, your business etc. I guarantee they will see something you've missed and with one simple re-arrangement of the words and numbers you'll be taking home more money because they are knowledgable, experienced experts at playing the game.
…
I know some of what I've said here may be unpopular, or unconventional but the beauty of these 5 things is that you only need to sit down and sort them out occasionally. Sit down and do all 5, and then don't think about it for a year. You'll be raining in the benjamins at the ATM machine before you know it.