zen10 invites you to a Free Breakfast in Melbourne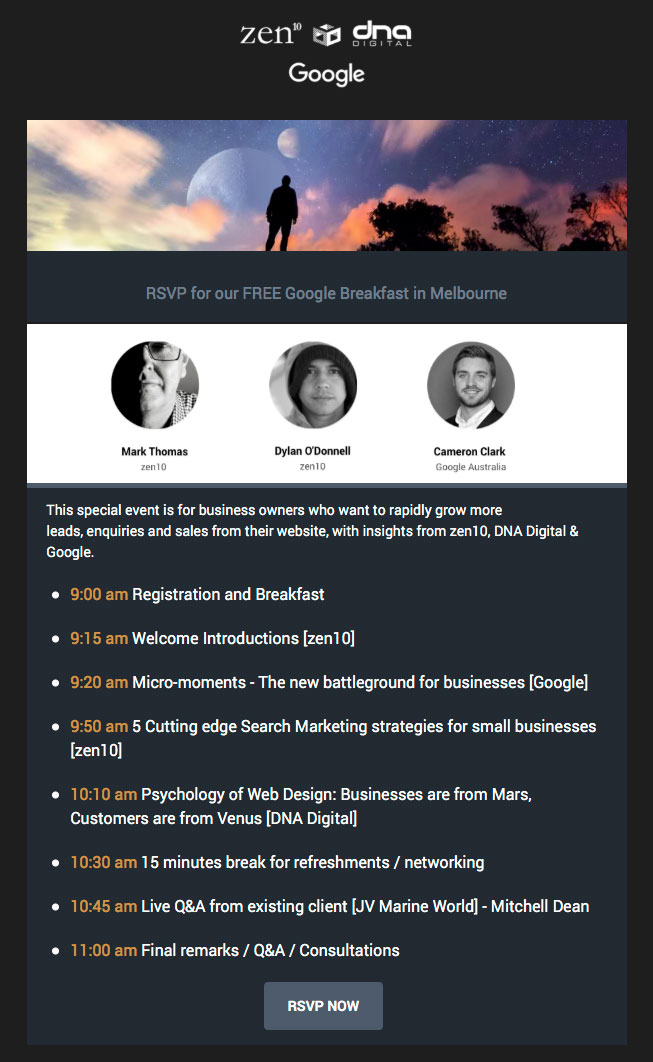 You are invited to a free breakfast with Google and zen10 on July 8th at the Cullen Hotel, Prahran
Speakers at this event are zen10 co-owners Dylan O'Donnell and Mark Thomas with Cameron Clark from Google Australia.
Learn how to find keywords and trends in your industry
What are the keywords your customers use when they want to buy for you
How to fInd the lastest keyword trends in your industry
When you should use AdWords and when you should just say no
Tools to improve your website performance
Learn why businesses are form Mars and customers are form Venus
What you should change on your website now to drive more sales
Get the latest from Google
Hear direct from Google the lastest data on what devices matter most in your customers journey to purchase
How to use mobile to win the battle of micro moments before a purchase
Special Offer
– Free, no obligation, one in one consultation with Google's specialists and expert Google partners
– Ask questions specific to your business
– Walk away with an online action plan for more leads, enquiries and sales
About the speakers
Mark brings with him 17 years experience in digital marketing, the last 8 years as a certified AdWords professional. Mark will share his secrets for crafting and managing high performance AdWords campaigns.
Dylan has a Masters of Information Technology and over 15 years experience in online networking, servers and web development (as well as being a world renowned space photographer in his spare time). Dylan will show you how to he designs websites that turn visitors into customers.
Cameron Clark for Google.
July 8th, The Cullen Hotel Prahran
Registration & breakfast 9.00 – 9.30
zen10 & Google presentations 9.30 – 11.00
One on one consultations 11.00 – 12.00
Booking is essential, space is limited. Register now
"I have worked with Mark and Dylan from zen10 for the past 5 years, they are my go to guys for Google" Glenn Gleeson Five Star Locksmiths
"zen10 are one of the few companies who synchronise online marketing with web development so they become greater than the sum of their parts" Lee Kenos Knightstone Partners
"What ever happens make sure my ads do not go offline" Mitchell Dean JV Marine
zen10 is a Google Partner Agency based in South Yarra.