Media Release : Google invites Melbourne's own zen10 to the Googleplex, Silicon Valley
Australian company, zen10, has been invited as a winner of Google's Engage All Stars competition to visit the Googleplex in San Francisco along with 200 Agencies around the world. 14 other companies in the region have also been invited to the exclusive conference, recognising them as one of the top Google AdWords agencies in Australia & New Zealand.
He would deny it if you asked him about it today, but Mark Thomas was once a car salesman. You wouldn't know it though, especially after his company was invited to the Google Headquaters (the famous Googleplex) in Mountain View, California. Otherwise known as Silicon Valley to nerds and tech workers everywhere.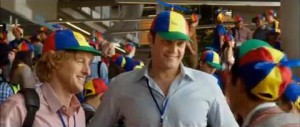 This year marks the first time that Google Engage All-Stars Summit has included Australian Google Engage agencies as attendees. These are the companies that are qualified in and work directly with Google's AdWords online advertising platform. For the 2013 summit, attendees to the conference have been invited from all over the world including Canada, The United Kingdom, Australia, New Zealand, Argentina & Mexico based on recent sales volumes in the regions.
"I'd like to take credit, but to be honest we have a great team at zen10 and Google's services are the best in the industry, so they aren't hard to market, implement and support." Thomas insists. "We've helped businesses with online advertising & marketing across Australia, but we are definitely a Melbourne based agency."
Some of Thomas' clients in recent years include JV Marine, Bond St Dental, The Australian Government and even Mercedes Benz. Although Thomas has a good grounding in IT, having worked at Eye Media during the height of the tech boom, he's seen a lot of change. "Companies used to pay a fortune for IT and web related services, but everything is cheaper and easier now. The opportunities are greater than ever before as the internet is increasingly the centre of how we all do business. It's great being a Google Certified Partner as Google are at the forefront of new technology and consumer behaviour data which we've been lucky enough to have access to. Often before the public do. The whole game has changed and keeps changing every day."
zen10 Australia will be in San Francisco for the Global Google Engage All-Stars Summit from August 12 – 14th.
The zen10 Google Qualified Team :
Mark Thomas (Director)
Google Adwords Qualified (Search Advertising)
Dave Miller
Google Adwords Qualified (Search Advertising)
Dylan O'Donnell
Google Adwords Qualified (Reporting & Analysis)
Google Analytics Individually Qualified
CONTACT INFORMATION
Mark Thomas – mark@zen10.com.au
1300 477 121