How important is Social Media for your Business?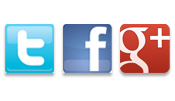 Let's get one thing straight. Never underestimate the power of Social Media.
Did you know that hundreds of millions of people log on to Social Media sites like Facebook, Twitter and Google+ every day?
If you don't understand how to use Social Media sites or it's importance then your business will miss out big time!
So what is it about social media that is so great for business?
It can boost your website!
Let's face it. Nearly every business has a website these days. Now let's say your business is doing 'OK', you may have a few enquiries here and there but you're wishing the site can help you churn out a few more dollars.
Having a business page on Facebook, Twitter or Google+ will boost a site's ratings with search engines, making it easier to find; which evidently will lead to more customers and potential sales.
It helps you get your name out there!
Brand recognition is one of the best reasons to have a Social Media account. Sites like Twitter, Facebook and Google+ all help you showcase your brand and communicate with your end users.
A business with a Social Media following will more than likely have great brand name recognition. If you think about it, people who like and/or follow your business page will in turn recommend your page and products/services to their friends. Offering 'exclusive' online deals can also help boost your following and therefore increase your brand recognition.
It's a relaxed and friendly atmosphere!
Another great reason why a successful business will use Social Media is to have a steady clientele. If you want your customers to keep coming back, you must connect with them! Social Media sites not only offer a relaxed atmosphere to engage with customers, but they can help you get feedback on your products and services.
Some people see Social Media just as a form of advertising. It is so much more! If you are passing on Social Media, you are passing on the opportunity to take your business to the next level.