Melbourne Web Design – Austrans Waste Solutions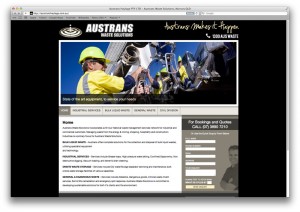 Austrans Waste Solutions incorporates a 24 hour National waste management services network for industrial and commercial customers. Located in Murarrie, Austrans contacted zen10 in need of a fresh update to the website.
The new website was designed to showcase the vast range of services Austrans offers with a slick new look and ease of navigation. Built using custom WordPress template development, the new website can now be completely managed by the team at Austrans. Features of the new website include gallery management, search engine functionality, slideshow and an online enquiry form.
Head over to www.austranshaulage.com.au to see all of the great services the team at Austrans Waste Solutions provide.
If you are after effective website design, contact zen10 Australia on 1300 798 901.