Melbourne Web Design – Cahill Chiropractic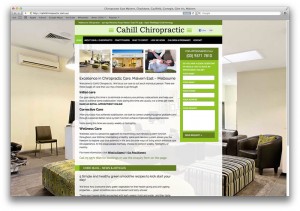 A new addition to the website porfolio is the brand new website developed for Cahill Chiropractic.
Working closely with Dr David Cahill, zen10 have taken a fairly aged flash-powered website and converted it into a fresh new WordPress CMS powered website.
Featuring online enquiry, customizable slideshows and a slick and simple design; the website is very efficient.
The new website also includes a news & articles section for not only patients of the clinic but anyone who is after tips on general health and well-being.
If you are in need of a spinal adjustment and are in the Malvern area, contact Cahill Chiropractic today. www.cahillchiropractic.com.au
If you are after effective website design, contact zen10 Australia on 1300 798 901.