Melbourne Web Design – Donnelly Blasting Services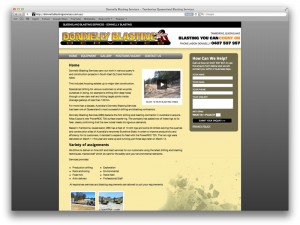 Donnelly Blasting Services carry out work in various quarry's and construction projects in South East QLD and Northern NSW.
zen10 recently had the pleasure of working with Jason to develop a website to showcase all of their services. The website was developed using WordPress CMS and features full control over content, HTML5 Video playback, custom gallery management integration and an online enquiry form.
If you are in the South East QLD / Northern NSW regions and need Drilling or Blasting work done, Donnelly Blasting Services should be your number one choice. If you are interested in hiring Donnelly Blastin Services head here: www.donnellyblastingservices.com.au
If you are after effective website design, contact zen10 Australia on 1300 798 901.