Melbourne Website Design – Smudgeproof Makeup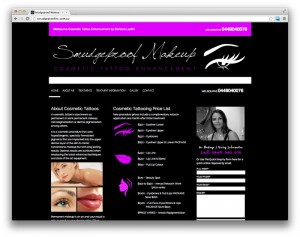 Barbara Aldini has worked in the field of permanent cosmetics since 2002. Specialising in Cosmetic Tattoo Enhancement, Barbara has come to zen10 to develop a website to showcase her range of services.
We have worked closely with Barbara to produce a website that is simple and effective in showcasing her services.
The new website was built using custom WordPress Template Development. The advantage of this, is it allows Barbara to have full control over website content.
The simple and effective design allows potential customers to view all of the services provided and look back on previous clients in the gallery section.
The new website boast a dynamic menu and gallery, online enquiry form and SEO feature.
When it comes to permanent cosmetics Barbara is your first choice! Check out her new website here www.smudgeproofinc.com.au
If you are after effective website design, contact zen10 Australia on 1300 798 901.