Melbourne Web Design – Chiropractic Family Care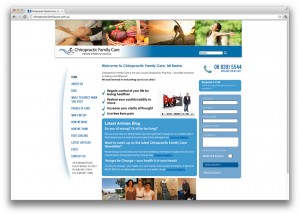 Recently, zen10 had the opportunity to develop a new website for Chiropractic Family Care.
Based in Mt. Barker Adelaide, zen10 worked closely with the Jasmine and Stuart to help construct a website that not only looks appealing but promotes a healthy lifestyle.
The new website was built using customised WordPress template development to allow the staff at Chiropractic Family Care to take full control over the website's content.
The new site also features an enquiry form for online bookings and also a newsletter subscription service.
The team at Chiropractic Family Care are quite passionate about healthy living and so it was a must to include an online blog / latest articles feature on the website.
The Latest Articles are updated on a weekly basis with great information on spinal care, healthy living and general well-being to name a few.
Do you need a spinal adjustment or are just after some advice in healthy living?
If so, then feel free to check out their new website: www.chiropracticfamilycare.com.au
If you are after effective website design, contact zen10 Australia on 1300 798 901.