Melbourne Web Design – Eversafe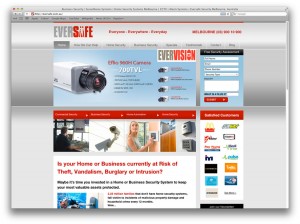 Since 1995 Eversafe have been providing technologically forward security solutions to households, small business, retail and commercial businesses.
Recently zen10 converted the existing static website to a WordPress driven dynamic website. Although the new website was based on the old design, zen10 has added a few new features including a restructured navigation menu,  a 'Free Security Assessment' form and a newsletter subscription service.
The use of  WordPress also give's Eversafe the opportunity to publish articles on Security news, tips and tricks; which was a must-have feature of the new website.
If you are looking at adding security to your home or business, head to www.eversafe.com.au
If you are after effective website design, contact zen10 Australia on 1300 798 901.