Melbourne Web Design – Frankston RSL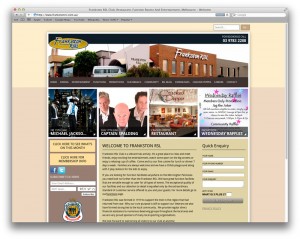 Recently, zen10 had the pleasure of constructing a new and fresh looking website for Frankston RSL.
The new website was constructed using a custom WordPress CMS template to allow maximum control over content.
The site contains all of the usual features WordPress has to offer but in addition zen10 has added a customised Events section and a dynamic banner which displays random featured content on each page load.
The new website also features front-end login for staff members,  a newsletter subscription service and the ability to add numerous galleries.
Feel free to head over to Frankston RSL to check out the new site! www.frankstonrsl.com.au
If you are after effective website design, contact zen10 Australia on 1300 798 901.