Melbourne Website Design – Lightning Locksmiths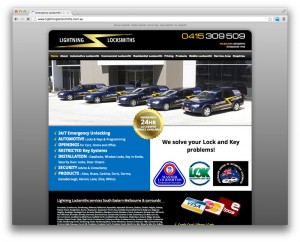 Founded in 1990, Lightning Locksmiths have been providing exceptional quality in Locksmiths services across Melbourne for over 20 years.
From residential and commercial through to on-site automotive emergency locksmith services, Lightning Locksmiths are at the top of their game in both experience and customer service.
Steve Howard recently sought the help of zen10 to develop and new website that would deliver a strong online presence in today's technological age.
The new website was designed to showcase the vast range of services Lightning Locksmiths provide and after approval by Steve and the team, it was time to start the build!
The website was built using custom WordPress template development, meaning Lightning Locksmiths could showcase a custom website that can be completely managed by themselves.
Located in the Melbourne area and are in need of quality locksmith service? contact Lightning Locksmiths today on 0415 309 509 or visit www.lightninglocksmiths.com.au
If you are after effective website design, contact zen10 Australia on 1300 798 901.