Melbourne Web Design – Universal Roofing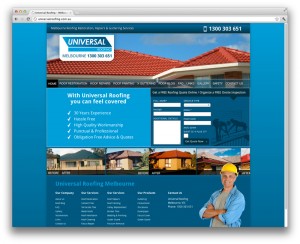 zen10 had the pleasure of constructing a new website for Melbourne roofing company Universal Roofing.
WordPress was chosen as the CMS to allow the client to have full control over the content.
The new website features a 'Free Online Quote' form, Built-in Gallery and also a Conveyor belt for Before and After images. It also features a 'Roof Blog' that will offer information about roofing and Tips and Tricks to maintain the quality of your roof.
If you would like to contact Universal Roofing about a job you may have for them, visit www.universalroofing.com.au
If you are after effective website design, contact zen10 Australia on 1300 798 901.