Melbourne Website Re-Design – Spa Sales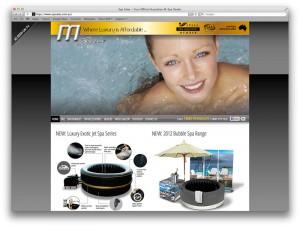 Still warm from the web design oven at zen10 is Spa Sales' brand new custom wordpress template design.
With a fresh new design for the winter season, the site now features a strong emphasis on luxury and quality with the introduction of a higher-end spa; the Jet Spa series.
The website, created with custom WordPress template development allows the Spa Sales team to take full control of their website and harness it's potential. The e-commerce platform allows secure transactions to be processed on-site, rather than using an external payment gateway.
If you are after a little bit of relaxation and luxury in your life, feel free to check out the great range of spa's on offer at www.spasales.com.au.
If you are after effective website design, contact zen10 Australia on 1300 798 901.