Sydney Landing Page Re-Design – Auto Inspect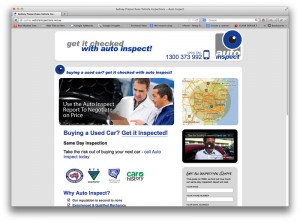 The team at zen10 has worked closely with Denise and the team at Auto Inspect to develop a new landing page design after the company's re-branding.
In accordance with the Google Adwords campaign, we decided to keep similar characteristics to the previous design, with a strong emphasis on content.
The landing page consists of 'straight-up' easy to read content. This allows customers to get the information they want and increase potential conversions.
After looking at our Melbourne Web Design portfolio, Denise requested help in re-designing the Auto Inspect landing page.
With the success of the landing page, the team at zen10 can tick off another quality landing page build.
Buying a used car? Get it checked with Auto Inspect! www.sydney.vehicleinspections.net.au
If you are after effective website design, contact zen10 Australia on 1300 798 901.