TAG -
web design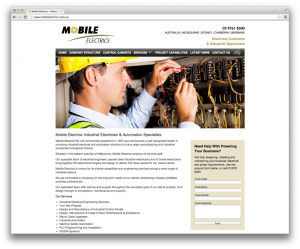 Our client wanted to replace joomla with wordpress CMS after their old Joomla site was defaced, which is a common problem with Joomla websites. We gathered their content from the old website and came up with a fresh new design for the electrical company.
Working closely with them over the design layout, graphics and stock photography we came up with a cleaner, easier to use website that represents their industrial electrician services a lot better than the previous one.
If you need an industrial electrician, contact www.mobileelectrics.com.au.
Or if you'd like to get rid of your old Joomla website and upgrade to wordpress, we can help.
<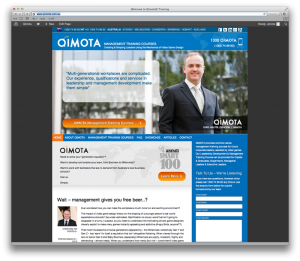 Here we created another bespoke web design for a Melbourne based training organisation – QIMOTA. Their strong branding and identity set the tone for the crisp, professional look of the website. We wanted to improve the engagement of the viewer with the slightly "intangible" service of training by using strong, personable photography.
An "intangible" product or service is one that is hard to show with pictures. Training, for example, is best visually summarised with action classroom shots of students etc, but unless composed properly still doesn't illustrate what the training is about. Instead we focussed on outcomes, with a strong slideshow of quotes + testimonials from industry partners and ex-students. This ensures the service is imparted to the viewer quickly and effectively.
If you need leadership or management training visit www.qimota.com.au or if you'd like help with your website design and marketing, contact zen10!
<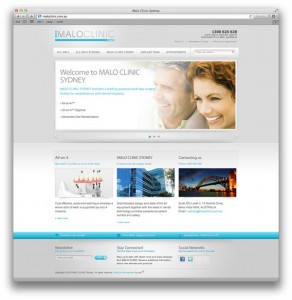 What would you say if you had mere days to build a complete multinational corporate website before a national 7am television promotion? zen10 rose to the challenge and quickly deployed the international branding for the new Malo Clinic's Sydney operation. It was a true web design emergency that was solved with hard work, tenacity and several cans of Red Bull. We met the deadline with a few hours to spare! Thankfully the office couch is comfortable enough to sleep on.
Malo Clinic is a global company started by Dr Paulo Malo, the main force behind the All-on-4 dental implant technology. They have clinics around the world and while many of them have chosen to build the global website design in .NET we recreated it as a custom WordPress theme quite successfully. This gives the client a great, simple and powerful backend with which to manage their own website content.
If you have a website emergency, and are a large, successful multinational company looking for an online agency – call us! We have another case of Red Bull on standby.
<