Web Design Melbourne – Ballarat Implant Centre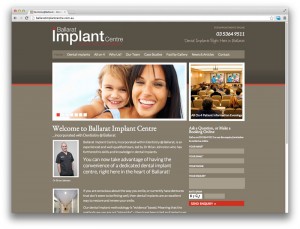 In conjunction with Dentistry @ Ballarat, Ballarat Implant Centre offer a wide array of services to ensure that the most appropriate treatment is matched to your individual needs – all delivered in a safe and predictable way as possible to help ensure the long-term integrity of work performed.
The team at zen10 has worked closely with Brian to develop a new website that can be completely managed by the staff at Ballarat Implant Centre.
After creating a design, it was time to use custom WordPress template development to build a functional website.
The new website features a customisable slideshow, gallery management tools, blog and of course an online enquiry form.
If you are in need of dental implants in Ballarat, contact Ballarat Implant Centre today! www.ballaratimplantcentre.com.au
If you are after effective website development, contact zen10 Australia on 1300 798 901.