Web Design Melbourne – Giorgio Dental Laboratory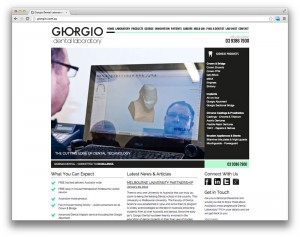 In need of a website overhaul was the team at Giorgio Dental Laboratory.
Established in 1992, Giorgio Dental has developed a reputation for unsurpassed quality, consistency and attention to detail.
We had the pleasure of working with Sam and the team at Giorgio to develop one of our favourite websites to date.
Based on a slick and modern design, the new website was built using custom WordPress template development allowing the team at Giorgio to take full control of their website.
Boasting a number of great features including dynamic menu integration, custom slideshow, product download feature, online blog, manageable gallery and online enquiry form to name a few, this powerful website brings Giorgio up-to-date with the quality of work they provide to their customers.
If you are in the Coburg, Victoria region and are in need of great dental services; Giorgio are your first choice! www.giorgio.com.au
If you are after effective website design, contact zen10 Australia on 1300 798 901.