Web Design Melbourne – Jungle Jim's Mobile Playcentre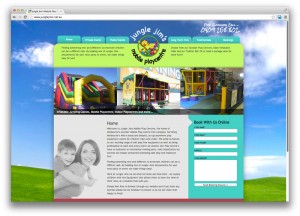 The team here at zen10 has worked closely with Aflie and Mahalia at Jungle Jim's Mobile Play Centre to produce a new website that effectively showcase's their vast range of services.
The new website was a major upgrade from the previous site, with the opt for WordPress CMS over Joomla!
Built using custom WordPress template development, the new website features a custom design to coincide with the use of the WordPress Content Management System. WordPress was chosen over Joomla! for its flexibility and ease of use for clients. The website is now in full control by Alfie and Mahalia and any changes they want made to website content can be made any time they want.
Incorporating customisable slideshows and gallery management, online blog and online enquiry form; Jungle Jim's online presence has been brought into the modern technological times.
If you are interested in contacting Jungle Jim's Mobile Play Centre simply visit www.junglejims.net.au
If you are after effective website design, contact zen10 Australia on 1300 798 901.