Web Design Melbourne – Live @ Main Street Music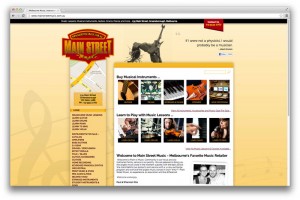 In January this year Paul Kite re-opened Main Street Music in Greensborough (previously Billy Hydes) and needed his customers to know Main Street Music was back in business – NOW.
The zen10 team sat down with Paul and an action plan to design, build and launch the complete website and online marketing campaign in 7 days. 
1. Get Locals Back Into The Store
A temporary placeholder page was quickly set up and a Local AdWords Campaign instantly found customers searching for "Greensborough Music" & "Billy Hydes Greensbourough".   The Click Through Rate on the Local Google Ads was +50%.
A new Google + Local Page for Main Street Music was set up and we removed confusing, out of date information with incorrect phone number from search results.
This immediately generated a steady stream of incoming calls.
2. Promote Music Lessons & Take Bookings Online
The new website show cases all of the lessons available and steps visitors through making an enquiry and booking online.
It was mission critical to get in front of the surge in "music lesson" searches as students get ready for school in January (Google Trends).
3. Sell The Complete Product Range Online
The website has a comprehensive product catalogue, shopping cart and payment gateway ready to be populated with over 85 categories of instruments  equipment, accessories, sheet music and DVD's.
Technology & Tools
WordPress and Woo Commerce makes the website and online store incredibly easy to manage.
Marketing & Optimisation
Google AdWords – local campaign, music lesson campaign & product campaign

Blogs on the home page to engage people and Google including Google + Author Image display in search results

New Google + Local Page for Main Street Music and removed confusing out of date listings with incorrect phone number from search results

Google Analytics to track the outcomes of all marketing
Final Notes….
This project gave us a chance to use all of our skills and working with passionate business owners like Paul and Rhiannon Kite made it a pleasure.
As well as talented web designers, developers and marketers the zen10 team has some talented and well…..enthusiastic musicians.   The drum kit in the middle of the zen10 production office is a give away.
Time to get your groove on at Main Street Music.