Web Design Melbourne – Mobile Automation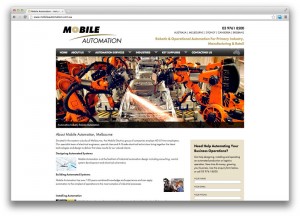 Mobile Automation recently requested their website undergo an overhaul to bring it up to scratch with today's web standards and technology.
Running on an old version of Joomla!, the website was in dire need for an upgrade. With functionality and security in mind, WordPress was chosen as the Content Management System to use.
With functionality and customising in mind, the new website has been built with full control in mind.
From custom slideshows and banners, through to custom enquiry form and dynamic menus; the team at Mobile Automation now have full control over what they wish to display.
If you are interested in the vast range of services Mobile Automation have to offer, head over to their new website here www.mobileautomation.com.au
If you are after effective website design, contact zen10 Australia on 1300 798 901.