Web Development Melbourne – Roof Seal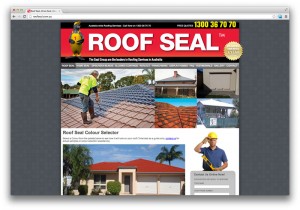 Keeping up with today's web standards is essential when your business sources a lot of work from its website.
One of our oldest clients Roof Seal, recently had their website undergo a complete re-development.
The old website that was running on a dated version of Joomla! CMS, was not only vulnerable to hacking but was in dire need of an upgrade to fix minor glitch's.
Re-developing the website in WordPress CMS is the best choice the company could have made. We were able to re-create the website exactly and add in many improvements that will in turn boost the profitablity of the website.
Added to the website was a comprehensive SEO plugin to help boost organic traffic, fully manageable slideshow and gallery tools to improve the showcase of services they provide.
The intuitive design of WordPress makes this CMS one the best, if not the best. Now, Jim and the team at Roof Seal can update the website at any time with ease (unlike Joomla!)
In need of a great roofing solution? Contact Roof Seal today www.roofseal.com.au
If you are after effective website development, contact zen10 Australia on 1300 798 901.