What's the Difference Between a Landing Page and a Website?
You may have heard the term "Landing Page" being used to describe a web page and may be wondering what the difference is between a landing page and a website. What does landing page mean anyway? It's a fair question.
To simplify it, I would define it like this …
A Website is a collection of web pages on one or many various topics.
A Landing Page is a single optimised page designed to promote or inform on a single topic and therefore have a single goal – eg Sale, Enquiry, Sign Up.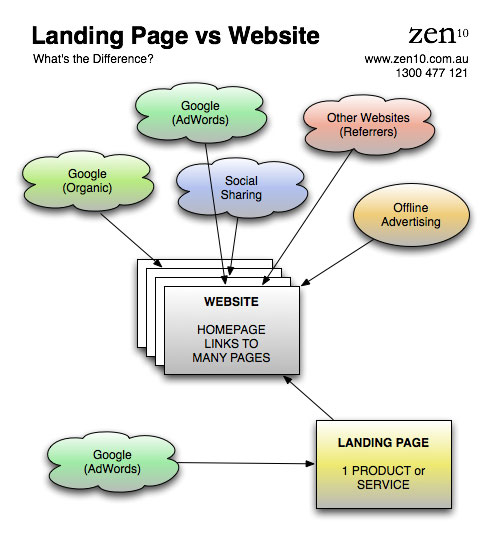 As you can see in this illustration, a website typically has many traffic sources.. organic, direct, paid and typically (but not always) people "land" on the homepage.
In this regard, you should always consider the front page of your website the "landing page" for your business. It should summarise your entire operation and lead visitors to the goals. A Landing Page however, may sometimes exist in isolation from the website.
Many people use this method to target a single particular product or service, with a single traffic stream, in this example Google Adwords. That way you can funnel visitors which specific goals themselves (eg searching to buy something) to your landing page which has a similar goal (to sell something). That said, there is always some overlap.
You may have a website with several "landing pages" within it. Like a Car Dealer who has separate pages for car sales, and car repairs. A good landing page gives the customer everything they need without having to navigate anywhere else. It should have all the information they need about what you offer, then all the information they need to contact you, buy online or leave an enquiry.
zen10 uses a number of design methods and strategies to tightly integrate your landing page with a Google adwords campaign, and optimises the page not just for search engines but for human usability as well, in order to maximise the number of conversions (enquiries or sales) you get. This is called "CRO" or conversion rate optimisation. But that topic, is for another day!