Zen & The Art of Website Marketing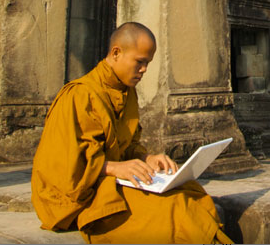 Want to know how to get to the first page of Google and gain ascendancy over your competitors? Do a google search for your product or service and look at the first 10 organic results. There are a number of tools you can use to analyse your competitors sites for backlinks – sites that link to them. Try to get your link onto those backlink sites too. Look at their websites, and look at their headings and text for keywords. Check their META data and see how it's structured. In short – Do everything they do.
But don't stop there. Once you've done everything they've done – Do everything they haven't done. The key to rising above them will be to pay attention to the details they missed. Maybe it's social networking backlinks? Maybe it's the lack of updates to their front page. Maybe it's the use of frames or flash or tables on their site. Find out what they haven't done well, and do it better. Your enemy's wisdom can be your strength.
"In the practice of tolerance, one's enemy is the best teacher." – Dalai Lama
If you are looking at optimising your website click here