zen10 Attends The First Inaugural Business Congress 2011
Mark Thomas (zen10 Director) and I went along to Day 2 of the Business Congress last Friday and enjoyed several excellent stream sessions on Innovation & Marketing. A recurring theme emerged from many of the speakers about being socially responsible in the pursuit of profits, and keynote speaker and academic Michael Porter suggested that this approach is not only ethically sound, but lucrative. The idea he elaborated on is one he has been writing about since 2006, Create Shared Values (CSR). In keeping your staff, and your community happy and healthy your business reaps long term quantifiable benefits. While I'm excited about this idea, I wonder how idealist Porter is being when he says that this is going to be a natural evolution of neo-classical capitalism. I'm not so certain but we certainly hope so.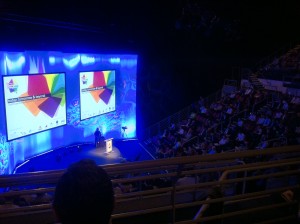 By far the most exciting part of the day was the keynote given by Steve Wozniak, a sharp, fast paced summary of his life as a young man and engineer for Apple, his relationship with Steve Jobs and his overall love of innovation and technology with insights into the genesis of many of his inventions that led up to the Apple computer. Although much of this talk was already well known and documented in his autobiography, "iWoz"  it was refreshing to hear it with such enthusiasm from the man himself. The Q&A session however revealed his ideas about the singularity and artificial intelligence which took some people by surprise and led to some media coverage of this idea of us becoming pets to robots!
We were also lucky enough to be invited by GE into the VIP room via some Twitter serendipty to meet Steve personally and he was gracious enough to sign my copy of his biography. Our impression of him was that of a genuinely interested, humble and nerdy engineer that epitomises the "geek culture" for which is he known as being an icon for. The business congress is a culmination of several state chambers, allowing for bigger events and bigger speakers. It will be interesting to see how this event evolves over the years. If the first is anything to go by, the signs are good! www.businesscongresss.com.au —- Dylan O'Donnell is the senior web developer for zen10