Uncategorized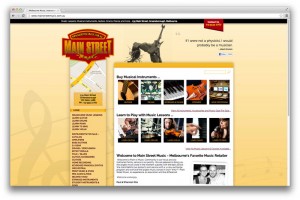 In January this year Paul Kite re-opened Main Street Music in Greensborough (previously Billy Hydes) and needed his customers to know Main Street Music was back in business – NOW.
The zen10 team sat down with Paul and an action plan to design, build and launch the complete website and online marketing campaign in 7 days.  (more…)
When we run AdWords campaigns we know a lot about the person who clicked on our Ad.
We know what they searched for, when they searched, where they searched from and whether they searched from a desktop PC, Tablet or Mobile Device.
When they arrive at the Landing Page we use Conversion Rate Optimisation techniques to "persuade" the visitor to make an immediate phone enquiry or online enquiry.
Many of our most successful AdWords campaigns use a single, optimised landing page. They are ideal for Google SEM campaigns where Conversion Rate Optimisation is required.
We show the visitor that they have found the right place and after that the the only option is to make an enquiry. This is aggressive marketing and when you are paying for clicks aggressive is good.
We build Landing Pages where they are the only online presence for a business. We also build Landing Pages as part of an overall marketing strategy for business with multiple products and services.  Here are a few examples of zen10 Landing Pages.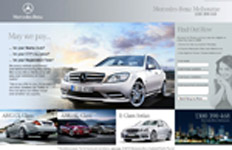 Mercedes Benz Melbourne
 zen10  portfolio and Google AdWords Packages
"95% of everything bought & sold in Australia is NOT sold online." – zen10
Retail spending is growing at a rate of 26% per annum, compared with traditional retail sales growth of 1.7%.  This may lead you to think that online sales is causing the demise of traditional bricks and mortar retail spending – but you'd be wrong. (ref 1)
In 2011 Australia's total online spending was approximately 10.9 Billion, but note this accounts for only 4.9% of total retail sales. (ref 2)
So before you have visions of making your next million online, remember that you might be neglecting 95% of possible revenue by not targeting sales offline as well.
The big opportunity is that the 4.9% of online retail is set to potentially increase to 10% by 2015.  The decision looming for  most business owners is not wether to go with e-commerce or bricks and mortar  but when to add  online sales to enhance the bottom line of their existing business model.
If you want to be part of a growing industry, start selling online.