TAG -
website development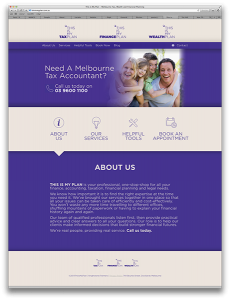 TaxAid recently underwent a rebranding that sees them now as "This is my Plan", a strong financial services brand to reflect the scope and focus of their company. Working with a graphic design company and other agency teams, zen10 helped roll out the new website, a strong foundation for the next chapter in their business lifecycle.
It's winter now, which means the inevitable is here : Death and Taxes. Don't wait for either – what's your plan?
Visit www.thisismyplan.com.au 
<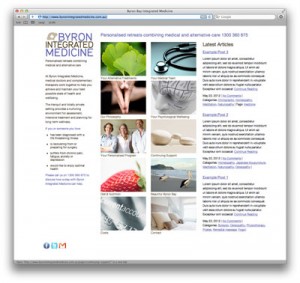 Sometimes we work with a clients graphic designer to bring their vision to life. We can convert their mockups (usually in inDesign, Photoshop or Illustrator) into a fully functioning website with a wordpress CMS backend. Once a client gave us a detailed pencil sketch, and we used that as the basis for our layout code!
Byron Integrated Medical is a multidisciplinary team combining GPs with alternative medical practitioners, live-in resort style accommodation and catering for a "luxury hotel" style hospital practice. They aim to offer a holistic approach to care and recommend 3-4 week stays.
If you need alternative medical assistance in Byron Bay visit http://www.byronintegratedmedicine.com.au/ 
<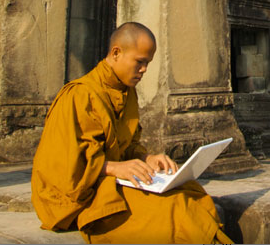 Want to know how to get to the first page of Google and gain ascendancy over your competitors? Do a google search for your product or service and look at the first 10 organic results. There are a number of tools you can use to analyse your competitors sites for backlinks – sites that link to them. Try to get your link onto those backlink sites too. Look at their websites, and look at their headings and text for keywords. Check their META data and see how it's structured. In short – Do everything they do.
But don't stop there. Once you've done everything they've done – Do everything they haven't done. The key to rising above them will be to pay attention to the details they missed. Maybe it's social networking backlinks? Maybe it's the lack of updates to their front page. Maybe it's the use of frames or flash or tables on their site. Find out what they haven't done well, and do it better. Your enemy's wisdom can be your strength.
"In the practice of tolerance, one's enemy is the best teacher." – Dalai Lama
If you are looking at optimising your website click here
<