Marketing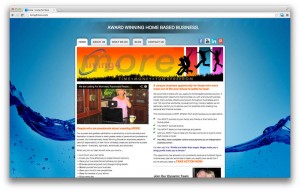 We recently had the pleasure of upgrading Living 4 More's website from a static HTML, to a dynamic WordPress powered website.
Keeping the original design (with a few new features), we have used custom WordPress template development to deliver a website that is up to scratch with today's web standards.
All the content is now completely manageable by Pauline which in the long term will save her time and money. The greatest asset to having a CMS powered website is that the client has full control over the website's content.
There is no backwards and forwards communicating what changes will have to be done, instead the client can login, make the changes and update in real time.
If you are interested in upgrading your website, contact us today and we will be glad to help you out.
Call us on 1300 477 121 or send us an enquiry by using the form on the right.
Google Engage is a program for online agencies that offers the chance to learn the best implementation and methods directly from Google. These events  are invaluable and all zen10 team members attend.
Each event covers topics from a first hand view at Google as well as insights and best practices from leading international agencies.
At last month's Google Engage event it was my privilege to be a guest speaker on an industry panel to discuss the tools and strategies we use to market our own agency.
These are the same methods we use to help our customers grow profitable businesses.
The fact is that if you are any good at what you do you are already busy…..but you know you need systems that introduce, nurture and close business from new customers to grow. Especially in tough times.
Here are the zen10 basics we use for our own online marketing
– design a great website that converts
– do great work and blog about ……..often !
– optimise for a few important keywords
– use AdWords to target high value clients and ruthlessly measure cost per acquisition
– remarket to those who visit your website but don't connect the first time (hint – those ads that follow you around the internet no matter where you go)
– use an internal sales system to help your sales team be productive, follow up and close business…….especially if you are the sales team ! (I personally use OnePageCRM with immediate results to the bottom line)
With a few simple (not simplistic) steps you can develop a system that becomes the foundation not just for next weeks sales, but next month, next quarter and next year.
Thanks to the Google Engage team and my fellow panel members for a great day and if you are interested in how you can improve your online marketing, feel free to contact me for a personal chat.
Mark Thomas
Director zen10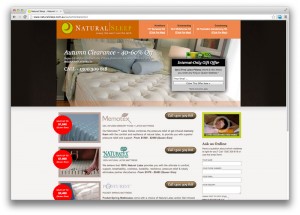 Natural Sleep sought the help of zen10 to develop a new landing page to coincide with Google Adwords sale campaigns.
The new landing page has kept the same style as the main page of the website but has been stripped of all links to the main website, thus enhancing lead generation.
The new landing page includes the standard online enquiry form (where most leads are created), lightbox effects for both Google Maps and video commercial, simple design and online exclusive gift offer.
When it comes to luxury bedding that wont cost the earth, Natural Sleep are your first choice! www.naturalsleep.com.au/autumnclearance
If you are after effective website design, contact zen10 Australia on 1300 798 901.